OMG! MAGIC MIRRORS
Our Magic Mirrors can light up your event, with a timed
selfie and an original character voice.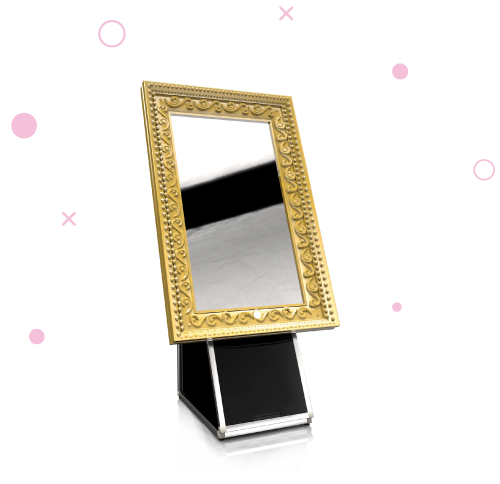 Magic Mirror Hire London, Essex, Kent, Hertfordshire & South East UK
The Mirror LOOOOVES you! Our brand new OMG Magic Selfie Mirror Hire is a novel twist on a group selfie & can create memories that guests are able to take home with them. The mirror talks to each guests and encourages everyone to press the button to strike a pose. The on-screen magical display tells guests when the photos are being taken. Our OMG Magic Mirror is perfect to set up in entrances or in main rooms to capture the vibe of the evening whether you're in Essex, Kent, London or Hertfordshire. Our mirror comes complete with a huge prop box & instant drying print outs to ensure no photos are smudged. Complete with a personalised caption, your guests are sure to remember the evening for months to come.
Check out our video here:
The OMG Magic Mirror is the must have addition for ANY event & will get your guests talking about how unique our mirrors are. If you want something that will stand out, you've found what you've been looking for. Send us an enquiry by using the form below or give us a tinkle on the blower & one of our friendly OMG Team will love to talk to you about how we can add the WOW factor to your evening. We're ready when you are… 0800 335 7017!
Our bespoke Magic Selfie Mirror rental for London & South east England comes fully equipped with:
– DSLR Canon Auto Focus Cameras
– A Huge 45″ Luxury Framed Mirror
<span">- Our huge selection of over 100 Props in our box
– A Direct Download Link after the event of all the photos
– Unlimited Instant Dry Print Outs with a choice of lay out
– Uploads to our online gallery
– Optional Guestbook
– Our huge selection of over 100 Props in our box
– Selection Luxury Frame Colours & Styles
Book your Mirror today!
Get in touch with us today to book your booth, pod or magic mirror. Whether it's a wedding, party or corporate event, OMG! will have you covered!